SSP was pleased to collaborate on this application design and blog post with Eli Callis, Network Supervisor at Consolidated Electric Cooperative in Mount Gilead, Ohio.  Eli has 5 years of experience in managing and provisioning Carrier Ethernet and dark fiber services for CEC's Enlite Fiber Optic Network.  Eli holds a bachelor's degree in Network and Communications Management.  In his free time, you can find him out camping, cooking or enjoying live music!
The Business Challenge
Consolidated Electric Cooperative (headquartered in Delaware, OH) recently contacted SSP Innovations with a business challenge in need of an innovative solution.  CEC operates a Carrier Ethernet network (called Enlite Services) which they use to provide lit services to local businesses, anchor institutions, other carriers, and government entities while supporting their own, internal utility communications.  CEC was able to track and manage Ethernet Virtual Circuits (EVCs) using a cloud based application, but that application not providing the full set of functionality they were looking for.  They had also made an investment in both the Schneider Electric ArcFM Fiber Manager and Wavepoint applications to document and manage their physical network, but were unable to associate their physical circuits modeled in GIS with the Ethernet Services and other services (Dark Fiber Leases, Cross-Connects, Duct Leases) being provided using those physical links.  All of these challenges led to a need to design a brand-new system which interfaced with the ArcFM Fiber Manager physical network model while providing the additional VLAN and EVC capabilities needed to properly manage their network.
Creation of a "Network"
While ArcFM Fiber Manager does an excellent job of documenting fiber routes, device locations, and the connectivity of these entities (down to the fiber strand or WDM wavelength level) in many cases its physical circuit management capabilities can be improved upon.  An ArcFM Fiber Manager physical circuit is a named, connected path through the network and typically represents the communications paths, ports, and subsequent connectivity from one Device Port to another Device Port.
In scenarios where communication is provided by transmit and receive fiber pairs, or where multiple physical circuits operate together to support a ring, the ArcFM Fiber Manager circuit model neeeds additional capabilities to fully model what is happening in the field.  This is where the concept of a "Network" comes into play.
A Network is a collection of ArcFM Fiber Manager physical circuits that can be logically grouped together to serve a specific purpose.  For CEC, examples included an Ethernet Ring Protection Switching (ERPS/ITU-T G.8032) ring or a point-to-point communication path from a customer site to the ring using a pair of fibers.  A network allows the individual ArcFM Fiber Manager circuits that represent a communication path to be grouped together and worked with as a single entity.
S-Tag (Service Tag) VLAN
Since Consolidated Electric Cooperative operates as a service provider (providing lit services between different on-net locations served by their communications infrastructure), they are actively using Q-in-Q tunneling to route customer traffic throughout their CEC communications network.  Q-in-Q tunneling allows service providers to create a Layer 2 Ethernet Connection between two customer sites, and then use Service Tag (S-Tag) VLANs to segregate customer VLAN traffic or to aggregate different customer's traffic onto the same Service VLAN.  This is done by adding a Service Tag value to the customer's packet, allowing the customer's traffic to be isolated and the packet to be routed through the service provider's network using the Service Tag.
In the application design, the previously described Network can support one to many Service Tag (S-Tag) VLANs.  This is consistent with the operation of an ERPS/ITU-T G.8032 ring or point-to-point link in the real world.  These S-Tag VLANs are then available for use at all Metro Ethernet Network (MEN) or Network-to-Network Interface (NNI) ports on devices participating in the Network, thus establishing what is needed to provision Ethernet Virtual Circuits (EVCs).
Manage Ethernet Virtual Circuits (EVC)
Once the necessary Networks and Service Provider VLANs have been established, Ethernet Virtual Circuits (EVCs) can be provisioned between customer User Network Interface (UNI) and Network-to-Network Interface (NNI) ports.  An Ethernet Virtual Circuit is an association between two or more customer network interfaces that identifies a point-to-point or point-to-multipoint path within a service provider network.  It can be thought of as a conceptual service pipe within the service provider network.
Users of the application will navigate to a Site or other location of Customer Equipment to provision their EVCs.  The selection of a UNI port will allow them to choose the customer tagged traffic that they want to assign to the EVC and then choose the S-Tag VLAN that will be used to traverse the Service Provider's network given the MEN and NNI ports on the equipment at the customer's location.  The user will then select the NNI and/or UNI ports on the other end of the EVC to complete the circuit path.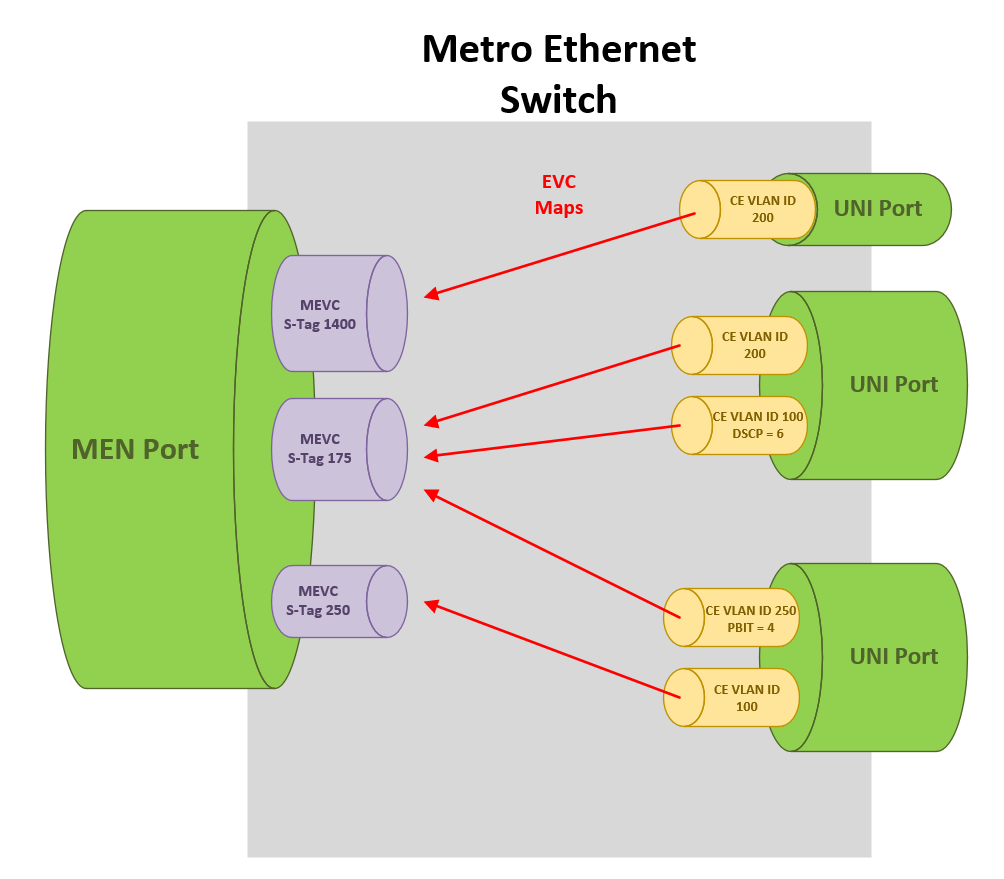 Given that the EVCs depend upon devices and their associated ports, along with the network entity that is tied directly to the ArcFM Fiber Manager physical network model via Fiber Manager physical circuits, this data model design allows a direct tie between the physical network and the ethernet services being provided using the physical network.
Other Services Supported
While the initial project was focused on building a design to manage ethernet services and building a relationship between the physical communications network and these services, it was quickly discovered that CEC could also benefit from modeling and managing other services being offered in a similar fashion.  These other services include Dark Fiber Leases, Cross-Connects between carriers at a CEC site, and Duct Leases.
Using a methodology similar to the one implemented to model a Network, Consolidated Electric Cooperative will be able to group a collection of ArcFM Fiber Manager physical circuits or Duct Running Line features serving the purposes outlined above, and then relate these to a Dark Fiber Lease, Cross-Connect, and Duct Lease entities created in the application, so that these additional services can be managed.  Capturing the data in this way will allow for the tracking of contact information, account information, related documents, and other key attributes of these services while maintaining a direct link back to the physical communications network and infrastructure network models stored in the GIS.
Another key service type will be the recently approved Broadband Services that CEC will be providing as a part of a GPON, Fiber-to-the-Home (FTTH) deployment.  The flexibility of the application architecture will allow CEC to model the path from the Optical Network Terminal (ONT) port to the Optical Line Terminal (OLT) port as an ArcFM Fiber Manager physical circuit, and then relate that physical circuit to the more detailed network management and business focused information housed in the services management application.
User Benefits
Moving to this new application will allow CEC to experience more robust functionality to store and manage the communications and infrastructure services they are providing to their customers.  This application will also provide a direct tie to the physical communications network and infrastructure network housed in the GIS.  Information not previously captured for policers, shapers, batteries, and service history (just to name a few) will now be easily accessible and searchable via a relational database.
The data model and architecture of the application will also open up many possibilities to support user needs not previously supported by the legacy application.  When users want to see the physical path a Virtual Circuit traverses including A and Z locations highlighted, the direct tie between the Virtual Circuit provisioning functionality and the ArcFM Fiber Manager physical model (through the use of the Network entity) will make this possible.
Using GIS information to analyze the services traversing cable paths, devices, and ports will allow quick, geographic access to services and customers potentially affected in the event of a fiber cut, card or device failure.