ArcGIS Implementation Gets NIPSCO Off AutoCAD Mapping
The Need
In 2003 NIPSCO decided to move from an AutoCAD mapping environment with a custom mainframe asset management system into an enterprise Esri-based GIS with ArcFM™.
The Background
Northern Indiana Public Service Co. (NIPSCO) is the largest gas and second largest electric utility in Indiana. NIPSCO's service territory spans most of the upper third of the state and they generate 97 percent of its electrical energy requirements and approximately 64 percent of their natural gas demands.
The Challenge
A key goal of the new system was to reduce duplicate data entry while increasing the overall quality of the data. Part of that effort was to merge the legacy mainframe asset management data with the AutoCAD map data to create a single, master system. SSP Innovations staff led the effort to merge the data sources and designed a web-based GIS tool to fulfill the non-graphic editing and reporting requirements of the new system. SSP Innovations also participated in the data modeling and application customization of the core GIS functionality (both ArcGIS and ArcFM™) to better meet NIPSCO's needs.
The Solution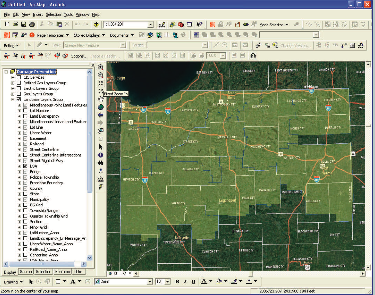 As the project continued, many interfaces to surrounding systems were identified and SSP Innovations led the efforts to exchange data with the outage management system (ABB CADOPS), distribution planning (ABB FeederAll), customer information system (custom mainframe), material purchasing (custom mainframe), and the general ledger (custom mainframe). Windows services were developed for the real-time interfaces and an SSP Maintenance was created for all batch interfaces as well as general GIS maintenance.
The Results
NIPSCO rolled their GIS into production in June of 2006 via a Citrix implementation and quickly realized the benefits of the new system. Since that time SSP Innovations has assisted NIPSCO with production support, training, upgrades and GIS enhancements
including:
Custom Batch Reconcile & Post (BRP)
Gas Customer Outage Analysis Tool
License Monitoring Tool
SSP Delta (Q&A report providing an interactive solution to view, track and report on all edits occurring in a GIS version)
Get this as a PDF